Midwest Record
RANDY PALMER/Deeper Water: Don't know if his daddy was a lawyer but there seems to be a lot of similarities in Palmer to Guy Clark. Clark could write great songs when he wasn't trying to write hit songs and that folkie country troubadour spirit infused this set deeply. The kind of set that proves it don't have to be a hit to hit you, songwriting fans have a voice to check out here. 
(Berkalin 10032)
Americana Highways
REVIEW: Randy Palmer "Deeper Water" 
Reviews 
July 6, 2022John Apice0 
Randy Palmer – Deeper Water 
There's a gentle tug on the sleeve from past folkies like Hamilton Camp ("Star-Spangled Bus") & more familiar names like Tom Rush, Buzz Clifford, David Ackles & Tom Paxton when traversing the Randy Palmer terrain. With 12-carefully composed tunes on his Deeper Water (Drops July 9-Berkalin Records) Palmer explores poignant subjects in a light-hearted fashion ("Carry On"). He's most comfortable with the basic folk idiom. Friendships, living every day to its fullest, family relationships, childhood & the human condition. Randy does this with purity & tries to keep the songs from becoming too saccharine. Most of the time he succeeds easily. 
Produced by Merel Bregante (drums/percussion/backup vocals) & recorded in Austin, TX the approach to these songs is modest with nothing obviously controversial, political, or novelty-oriented. Palmer's warm vocals & smart lyrics will seem generous with a style that runs a finger across the rim of John Denver's glass ("High Plains"). The "more hippie as a folky" individuality of a John Hartford or Jesse Colin Young is obvious as well in smaller doses. 
With so many innovative folk singers passing away – like Utah Phillips, Pete Seeger, Guy Clark & David Olney the spaces they filled require voices below the line to break the surface. A reliable singer-songwriter such as Randy Palmer (acoustic guitar/vocals) – age not being a consideration with quality paramount, is a good choice. 
"Welcome To My Home," is excellent. Again, with its John Denver style & high lonesome harmonica, songs are well-composed & performed. What Palmer lacks in edge he has in folk devoutness. Taking simple situations & turning them into relatable short stories with a fine voice ("Sixty Years of Love"). 
"Summer of '65," is pleasant nostalgia for those who lived it but for younger ears, this may sound more like a novelty, old shoes in the closet, unstrung tennis racket. But what Palmer achieves is wisdom in his song. He admits things he may have been more arrogant about in his younger days. Strong brave statement. There are generic songs such as "White Dog," with its Loudon Wainwright/Eric Andersen nimbleness. Palmer's voice gets Arlo Guthrie reedy but it's charming. He's consistent with his storytelling throughout. 
"Deeper Water," is a lesson about life & while many songs may be escapism for some there are lots of songs that resonate. It's not Top 40 but then, not everyone prefers the fast-food commercialism of the mainstream charts. These songs are for ears that seek something richer & not predictable. 
The players – Mark Epstein (electric bass/double bass/fretless bass), Michael Dorrien (acoustic/electric guitars), Cody Braun(fiddle/mandolin/harmonica), Peter Wasner (piano/keyboards/B3), Dave Pearlman (dobro/pedal steel guitar), Dirje Childs (cello), Trevor Smith (banjo), Billy Bright (mandolin), David Webb (piano/keyboards), Sarah Pierce, Betsey Palmer & Merri Palmer (background vocals). 
Photo courtesy of Randy's website. Listen & Purchase @ https://randypalmermusic.com/home
Alan Cackett
Randy Palmer - Deeper Water 
Berkalin Records 
**** 
Music has always been a soundtrack for a lot of people's lives. Veteran singer-songwriter Randy Palmer effortlessly blends wistfulness with a grounded reality check. These dozen songs look at life with its daily twists and turns and generation-spanning dysfunction through a clearly defined lens. He provides glimpses into a lot of different feelings, from frustration to wistfulness to boundless glee. Living in Texas and New Mexico, he deserves credit for transporting his listeners to the places that became his own source of inspiration and rejuvenation. It's good to experience the memories shared in these songs and, in turn, give listeners their own reason to rejoice. With a voice that hearkens the raw beauty of Steve Goodman, Randy has nurtured a reputation for ruminative excursions through rugged indie-tinged tundra—open-ended soundscapes further explored on this latest slice of timeless folk-country. Be it the lyrical playfulness or the careful mainly acoustic arrangements, you'll find yourself wrapped inside his musical web, happy to be caught up in such moving music. 
Like the very best in folk-country music, Randy draws empathy for his characters with a perspective that never overstates his viewpoint, leaving you with a desire to hear the next chapter in their lives. This comes through with The Life They Are Living, a compelling portrait of a family barely scraping by day to day. It's sort of a 'better enjoy this because this might be all we've got' scenario that sums up so many folks lives in this age of the 'them-and-us' great divide. He beckons the listener to his own world with songs like Welcome To My Home, High Plainsand Somewhere Down The Line. With evocative harmonica and softly plucked acoustic guitar, Welcome To My Home is blissful, knotted, and rolls around in the brain with a molten glow that's hard to shake. His homespun vocal sound is always charming, especially on this perfect song for when you're caught in your feelings. His music is fun, even when melancholy and has a sense of nostalgia even while new and fresh. This comes through in both the trying to fit-in saga of White Dog and the nostalgic anthem Summer Of 65. The pastoral, dreamy arrangement of the latter, he sings of the sweet, simple joy of 'moonlit games of kicking cans' with the heady air of Vietnam and Watts riots casting shadows over the world and the undeniable hope that he has today for his grandchildren. 
With Deeper Water he reaches even farther back as he reflects on a constructed adolescence of dawn fishing trips, innocent posturing and the life-long advice from fishing buddy Old Bill Gallagher. But buoyancy and carefree abandon are never the full picture, in old times, in current times, or in any times. The poignant 60 Years Of Love, has an elderly couple facing up to the inevitable consequences of old age, and possible permanent separation, with the knowledge that '60 years of love is just not enough.' In contrast, Echoes From The Past, is a dark and mournful break-up song full of regret given a more weighty arrangement. 
Randy Palmer has delivered a unique and well-constructed album. A dozen well-written songs that showcase his clear voice, set to a background of smooth, easy-on-the-ear folk-country arrangements. Full credit should be accorded to producer Merel Bregante (drums, percussion) and the crack band comprising Michael Dorrien (electric, acoustic guitars), Mark Epstein (electric, double, fretless bass), Pete Wasner (piano, keyboards, B3), Cody Braun (fiddle, mandolin, harmonica), Dave Pearlman (Dobro, pedal steel), Dirje Childs (cello), Trevor Smith (banjo) with Randy on acoustic guitar and background vocalists Sarah Pierce, Betsey Palmer and Merri Palmer. 
www.randypalmermusic.com 
July 2022 
© NEO Music 2011 - 2022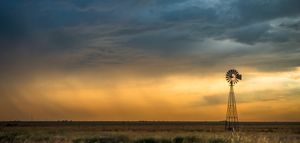 "

singer/songwriter at its finest. Randy writes catchy tunes that, when you listen, are not your typical fluff but offer meanings that can give you pause to think " ... " There are only a handful of singer/songwriters that I can think of that reach this lofty plateau"
Aural Musings 12/11/2014 
John M. Crossett III 
Thanks to my good friend Brad Leese of Austin Media Slingers, I now have both the Redbook CD and a one-off DVD-A 24/96 burn of Randy Palmer's debut album "Waterline." Why is this of interest over and above the music? Because both were mastered by Jerry Tubb of Terra Nova Mastering, thus allowing me to hear (with no question about differing mastering processes) just what the added resolution of the DVD-A disc offers over the Redbook CD and why high-resolution is a coming force in the audio marketplace as listeners begin to realize what has been lost with not only CD but even more so with MP3. 
I'll begin, however, with Randy's music, which is singer/songwriter at its finest. Randy writes catchy tunes that, when you listen, are not your typical fluff but offer meanings that can give you pause to think (try it sometime - you may be surprised what your brain is capable of). There are only a handful of singer/songwriters that I can think of that reach this lofty plateau. Right from the start, with the title cut, Randy shows his worth, The chorus begins "Come stand next to me, from here what do you see? / Is there a future or are we captives of the past?" Think about what he's saying. Think how this simple question is one that we should be asking not only of ourselves but with our significant other too - and how do we make sure we both have a future together, but a bright one and not one caught in the tangled web of past mis-steps. The remaining nine songs are of equally good quality. 
And speaking of quality, the sound given this wonderful tunes by Merel Bregante at Cribworks Digital is top quality. Merel has some of the best ears for a recording engineer I've heard (and not just because he is a musician himself, but because he genuinely cares about what he's hearing and how that sound is captured by his mikes and equipment). Even the CD offers a sense of full sound to each of the acoustic instruments on this album. But when I slipped the DVD-A in to the Pioneer DV-79AVi, well, let's just say things improved - dramatically. Suddenly I felt more in the presence of the artists as they recorded this disc. Randy's voice had more sense of liveness and realness. The instruments were fuller, with transients and dynamics that sounded more like live music than canned. The sense of the recording acoustic was palpable. And since what I was comparing came from the same hand, I could chalk the improvements I was hearing up to the added resolution of the 24/96 DVD-A versus the CD. (And just imagine what a true 24/192 disc would offer?) This comparison really nailed down my firm belief that until you hear music as it was captured, you're missing out. 
So, thank you Randy Palmer for creating such an enjoyable and musically satisfying disc. Thank you Merel Bregante for capturing the sound so wonderfully. Thank you Jerry Tubb for the opportunity to compare music in 16/44 versus 24/96 mastered exactly the same. And finally, thank you Brad Leese for sending these my way. 
And Randy, please don't stop with this recording. I want more.....